What to expect at our Oklahoma City Office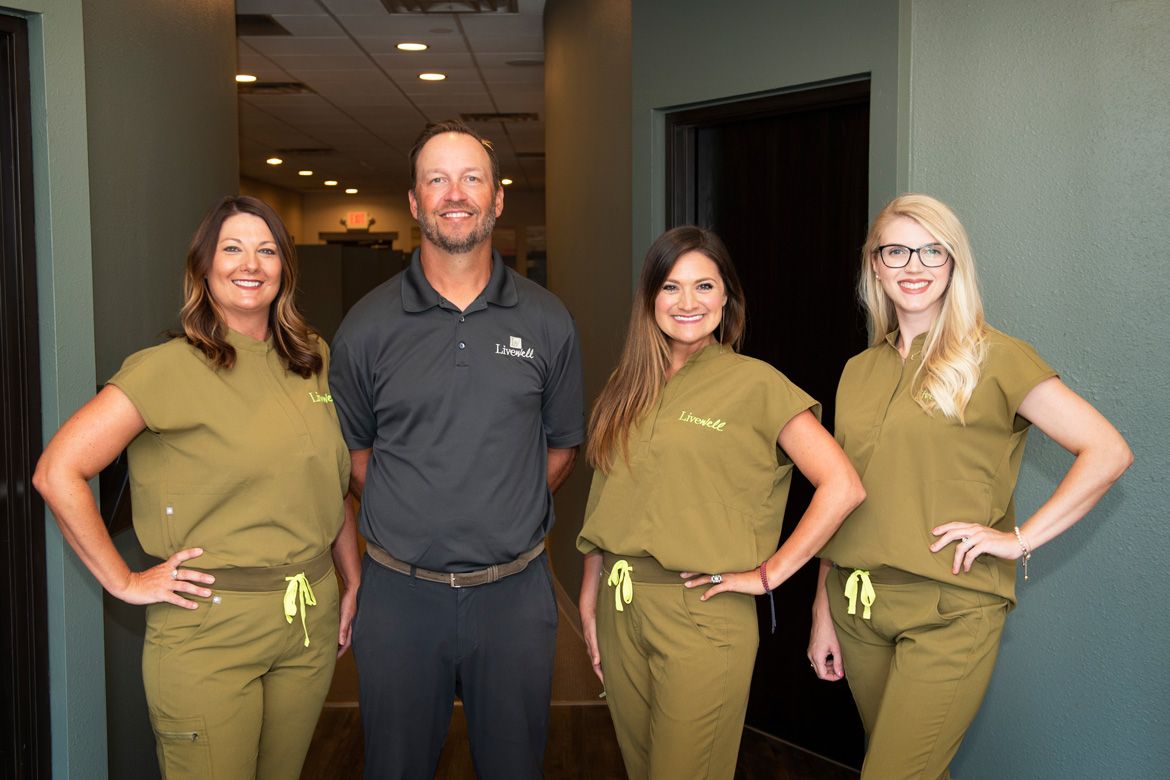 At LiveWell we understand that if you are new to chiropractic, you may not know what to expect when visiting a chiropractor, or wondering what exactly is a chiropractor going to do to your body. We know going to the chiropractor or doctor can be an intimate experience, and you want to trust whomever you chose to be your provider. At LiveWell Family Chiropractic, we address diseases and illness not by the use of drugs and chemicals, but by locating and adjusting a musculoskeletal area of the body which is functioning improperly. We want to treat the cause of the problem, rather than the symptom.
For those hoping to treat the causes of health conditions in a more natural way instead of drugs or chemicals, we want our patients to view us as your primary doctor for all you and your families' health care needs. With that said, we understand our role within the healthcare system, and we believe that a natural approach is always best, but sometimes there are times a natural approach is not enough, so in those instances we refer our patients to an appropriate general or specialist physician that aligns with your values and proven experience.
Dr. French uses a standard procedure of examination to diagnose a patient's condition and arrive at a course of treatment. Dr. French uses the same time-honored methods of consultation, case history, physical examination and x-ray. In addition, Dr. French provides a careful chiropractic structural examination, paying particular attention to the spine. On your first visit, you can expect to get X-Rays (with exceptions being pregnant women, children, and persons with certain health conditions), a consultation with Dr. French and an adjustment. Persons also getting X-rays will be required to remove any metal jewelry or objects at the time of X-rays. On your 2nd visit, Dr. French will then review your X-ray results with you, and go over a treatment plan that's right for you.
The examination of the spine to evaluate structure and function is what makes chiropractic different from other health care procedures. Displacements or derangements of the spinal column, causing irritation to spinal nerve roots are often what cause malfunctions in the human body. Chiropractic teaches that reducing or eliminating this irritation to spinal nerves can cause your body to operate more efficiently and more comfortably.
At LiveWell Family Chiropractic we also place an emphasis on nutrition, fitness, wellness and lifestyle modifications for promoting overall physical and mental health. At LiveWell Family Chiropractic Center we do not treat the individual as a separate entity but the body as a whole and we look forward to becoming a partner in your health care needs. Should you have any additional questions about what to expect when you first visit us, feel free to contact our office and we will be happy to answer any questions you might have!
So you're ready to stop suffering, and start living by coming to see us to start treating the root cause of your health conditions in a more natural way!
We've made it easy for you to get started with us to save you time before you come in if you'd like to do your paperwork in advance. Follow the 3 easy steps below to get started today!
STEP 1:  Call Our Office at 405-286-6300 Set Your Appointment
STEP 2: Print and Fill Out Your Paperwork in Advance (not required but will save you time in office). Choose the scenario below that's right for your situation for the proper paperwork.
Adult(s)  and children 4 or older- Print and fill out the Patient Introduction/Case History Form only
Children (Under 3) – Print and fill out Pediatric Intake Form & HIPPA Consent Form
Auto Accident Victims – Print and fill out the Accident Injury Questionnaire and HIPPA Consent Form
STEP 3: Come to our office the day of Appointment. Please make sure to bring the forms you filled out in advance with you! If you have insurance benefits, please make sure to bring your insurance card or information. If cash-only patient, no insurance card necessary. (Don't worry if you forgot or prefer to fill out in person, we've got you covered too!). Plan on spending about 30 minutes total in office the day of your first visit only (Process Paperwork, Insurance if appropriate, X-Rays, Consultation and Adjustment).
Oklahoma City office
4401 W. Memorial Rd., Suite 137
Oklahoma City, OK 73134
P: 405-286-6300
E: info@livewellfcc.com
Hours:
Monday: 9:00-12:30 & 2:30-5:30
Tuesday: 9:00-11:00 & 2:30-5:30
Wednesday: 9:00-12:30 & 2:30-5:30
Thursday: 9:00-12:30
Friday-Sunday: Closed
Our Staff